It was one of the most interesting lectures I have attended. Dr. Goldman was very well organized and thought-provoking. I would recommend this presentation as widely as possible.
— Arthur Berney, retired professor
Your lecture got our residents thinking and talking about the topic of violence in our society. When I came in the next day there was a lot of discussion among the residents.
— 
Jody Briggs, activities director
Thorough, well-researched, and convincing. Dr. Goldman effectively explains how to help reduce our high rates of violence. I highly recommend this presentation!
—
Gabriell Paye, retired teacher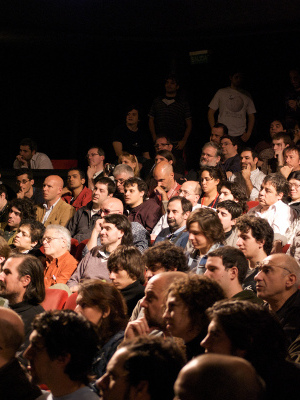 As a homicide survivor, I had a keen and personal interest in Dr. Goldman's topic. He clearly presented much relevant and pointed data which supported valid reasons why the USA is a violent country. Since my sister's murder in 1990, I have wanted to know what can I do to make this country safer. Dr Goldman's presentation gave me some ideas and most importantly added solace to my soul. Well done!!
— 
Lynn Thomas, financial consultant
Great progression from clearly enumerated and explained premises to quite logical and plausible conclusions. I appreciated the way this presentation pointed out certain choices our culture has made about where it places its attention and values.
— 
Karl Heinemann, software developer
I liked everything about this presentation. Thanks for the education.
This lecture answers questions that I have been thinking about for a long time. Dr. Goldman has done a superior job of pointing out how we perpetuate violence and what we can do about it. I appreciate his insight and caring.
— 
Roger Saquet, film producer
Clear, comprehensive, and science-based. Interesting for any age.
— 
Sarah Zitter, family therapist
Very good, clear presentation. It brings up important issues.
— 
Florence Freed, professor of psychology
I liked the diversity of the research. I would definitely recommend this program. It opens up discussion about common beliefs.
— 
Taunya Stefanski, nurse
Thank you, Dr. Goldman, for exploring the roots of violence by examining how our children are treated from  the very beginning of their lives.
— 
Kathryn Mora, writer, editor, and film producer
This was an amazing presentation about things that I had not known about before. Very eye-opening! Our beliefs and practices need to change.
—
Robert Eaton, management consultant
It is my pleasure to share the overwhelming success of your program. You could not have presented a more thought-provoking lecture. After more than a full week, our people continue to talk about the facts that you presented, which is the strongest statement to your effectiveness with your audience.
—
Diane Hoffman, program director
Dr. Goldman's presentation is full of insightful and significant ideas. I think that anyone trying to address the issue of, for instance, bullying, should consider this presentation when working with other professionals and educators in order to tackle the problem.
—
Rick Rosenblatt, software developer
Very well-done, easy to follow, concise, and clear! Dr. Goldman should be on Dr. Phil.
—
Nancy Wainer, midwife, author, and speaker
Dr. Goldman's recommendations concerning what does work to prevent violence are extremely convincing. This is a wise, carefully composed, and enormously instructive program.
—
David Mohs, software engineer
This presentation pulled together results from numerous research studies to form an integrated picture of the origins of
violence
. I felt quite moved by the experience. I'd like to see this on Good Morning America!
—
Glenn Koenig, video producer
"All things are connected." — Chief Seattle