Ronald Goldman, PhD is a psychologist, researcher, speaker, consultant,

and Director of the Early Trauma Prevention Center in Boston, MA. The Center educates the public and professionals about generally unrecognized origins and prevention of emotional and behavioral problems that often have overlooked beginnings during infancy. This information supports our common interests and improves personal, social, and political experiences. His research includes numerous contacts with parents, children, and mental health and medical professionals.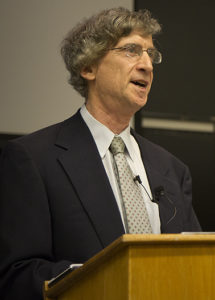 Dr. Goldman's publications have been endorsed by dozens of professionals in mental health, medicine, and social science. His writing has appeared in newspapers, parenting publications, symposia proceedings, textbooks, and professional journals. See a summary of his perspective at:
He has participated in many media interviews with radio and television shows, newspapers, wire services, and periodicals (e.g., ABC News, CBS News, National Public Radio, Associated Press, Reuters, New York Times, Washington Post, Boston Globe, Scientific American, Parenting Magazine, New York Magazine, American Medical News). Time and Newsweek have contacted him for consultation. World Beyond War includes him on their Speakers Bureau.
Dr. Goldman presents enlightening programs to professional groups, universities, conferences, organizations, nonprofits, civic, government and religious groups, parents, and others. Related services such as coaching and training are available upon request. A European organization of 47 countries that advocates for common social ideals and principles invited him as the only non-European participant in an interdisciplinary discussion before the Parliamentary Assembly.
"A day of prevention is worth years of treatment."   — Ronald Goldman, PhD